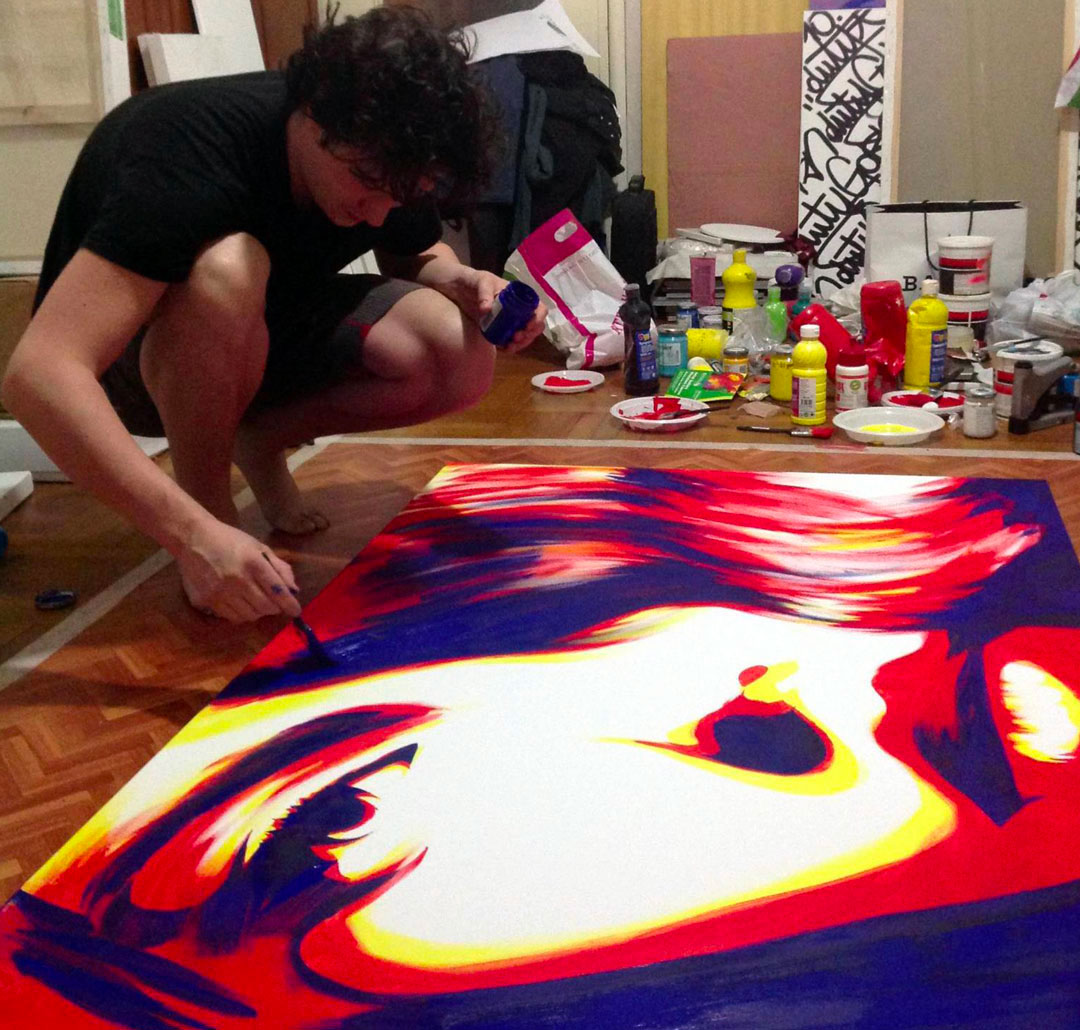 MY PAINTING,
A SELF-PORTRAIT,
SIMPLY TRUE.
DutyGorn is an artist in continuous experimental tension who expresses himself through a kind of metalanguage. A hybrid pictorial message, because it is composed of multiple gestures, sign-like and expressive, originally formed through sensations gathered from the street. DutyGorn reworks instincts and suggestions plucked directly from the everyday life of well-heeled Milan, from its grotesque, endearing contradictions.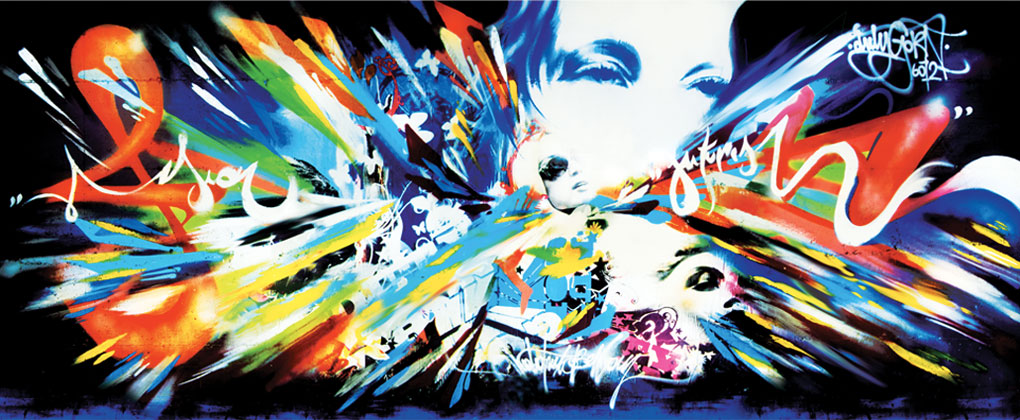 It is no coincidence that his antecedents are from writers '95: it is from society that he acquires the codes of communication, those multiple superimpositions called 'forms of life' by Wittgenstein and transforms them into inputs of meaning that take on meaning, transform and establish reciprocal relationships, only if deciphered in relation to the cultural context in which they exist and its multitude of symbols, habits and beliefs. The first works, made in the late 1990s, are lettering, graphically refined writings characterized by a personalized stylistic cut, dictated only by the rules of the road that are handed down almost as an atavistic oral tradition. "words" imbued with fragments stolen from the accelerated society of today's cyber-world, but also street corners, glimpses of the city in which the artist pours out with venting his controversial being.
Almost unknowingly DutyGorn reaches a next stage and from the 2000 began to work on plywood panels and canvases, where with spray, brush and acrylic, he began to focus attention on new details, this time anatomical details of female faces, sharply silhouetted against the almost always clean and white support and meticulously defined by an even more emotional mark: "working on the stroke is the only way to fill the portrait with soul and subjective depth", recalls the artist.
All these are thus contaminations between language and behavior that go to found a visual architecture, where image, word and collective – but intimate and introspective – historical evocation are offered symbiotically to the gaze, to arrive, to the creation of real polyptychs of decomposed and interpenetrating planes (2004/2011).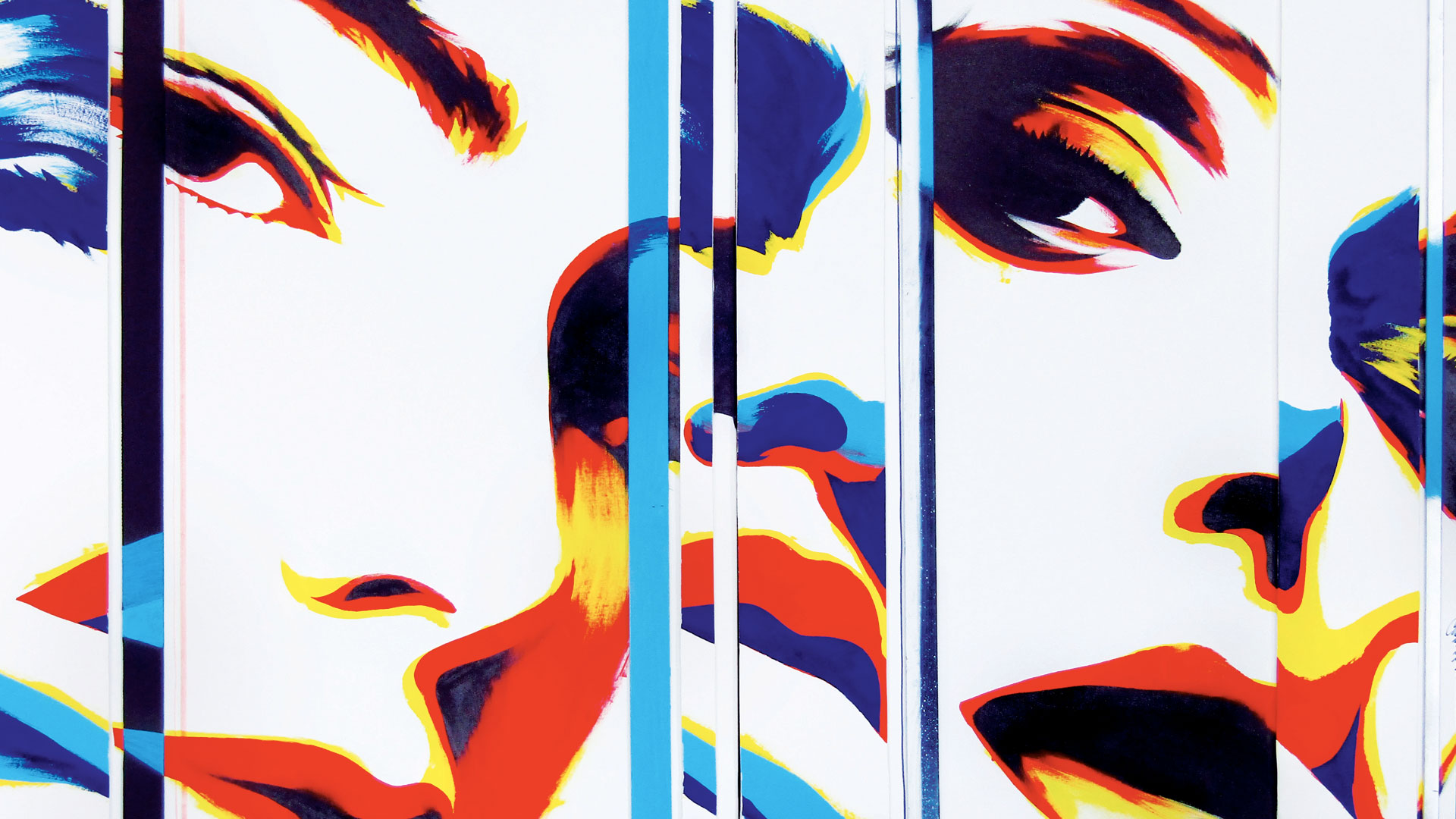 The artist likes to call these multiple quests of his 'studies' o 'projects', an example of which is the series of Triptychs, large portraits that cover the entire canvas, or, again, the contoured faces, whose details are meant to symbolize the idea of purity by surfacing isolated in barely sketched features where it is the concept of removing that prevails.
All these are different researches, but at the same time possibilities that can be used together to go and refine each new work from time to time. This is precisely their common thread: continuity. There can be no accomplished and conclusive end but only "a continuous remake of already defined sequences to which to adhere."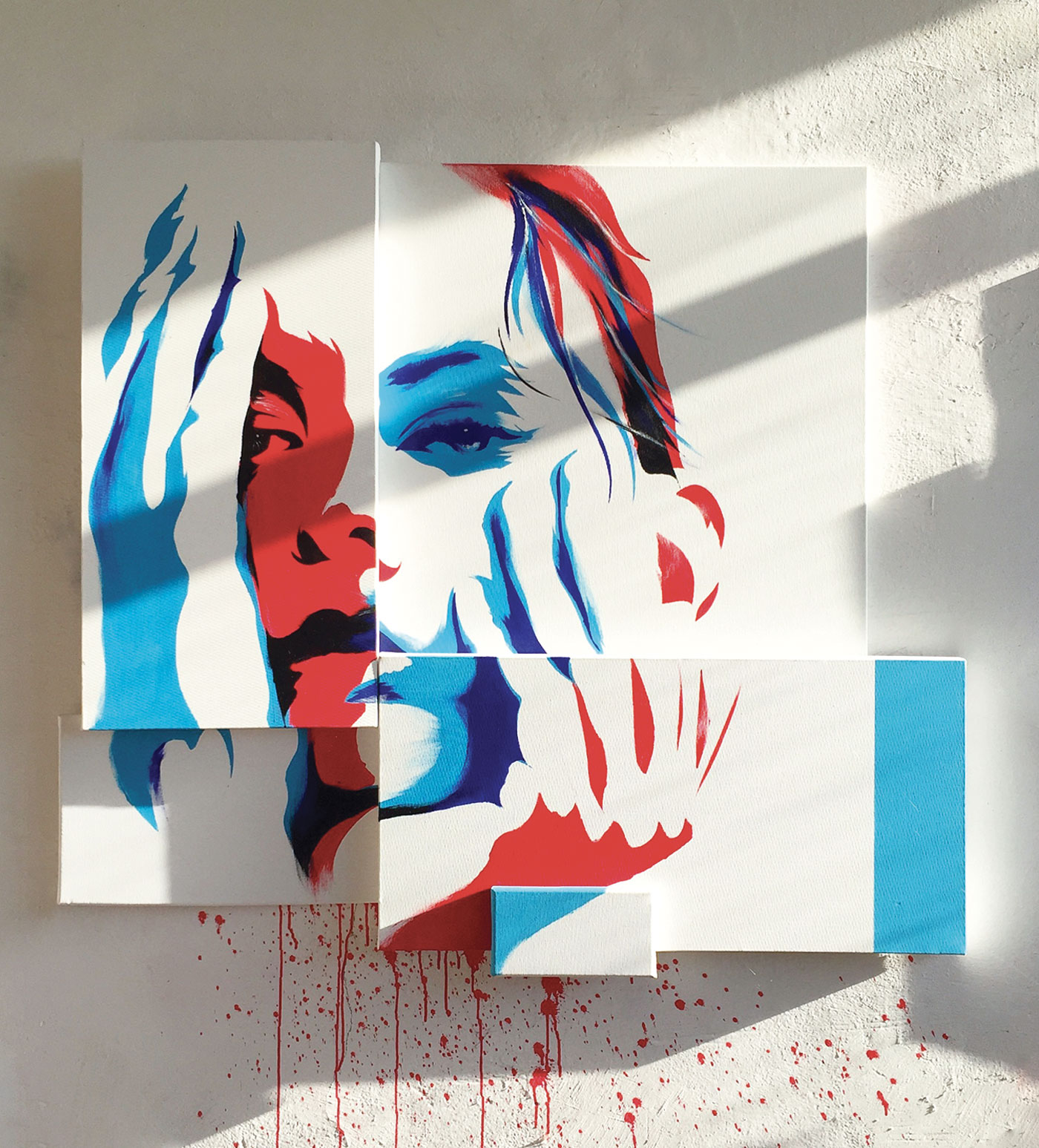 In the broader discourse of contemporary art, his making almost seems to follow a kind of diachronic revisiting of the Pop experience. In fact, DutyGorn starts from the anonymity of the Warhol-esque iconic portrait of sensual stylized female figures in broad, dense backgrounds of color and, then, brings the painterly together with the word as in the Jasper Johns-like written insertions, and then invades the space of the canvas with present-day sign revisitations or symbolic syntheses of evocative meaning.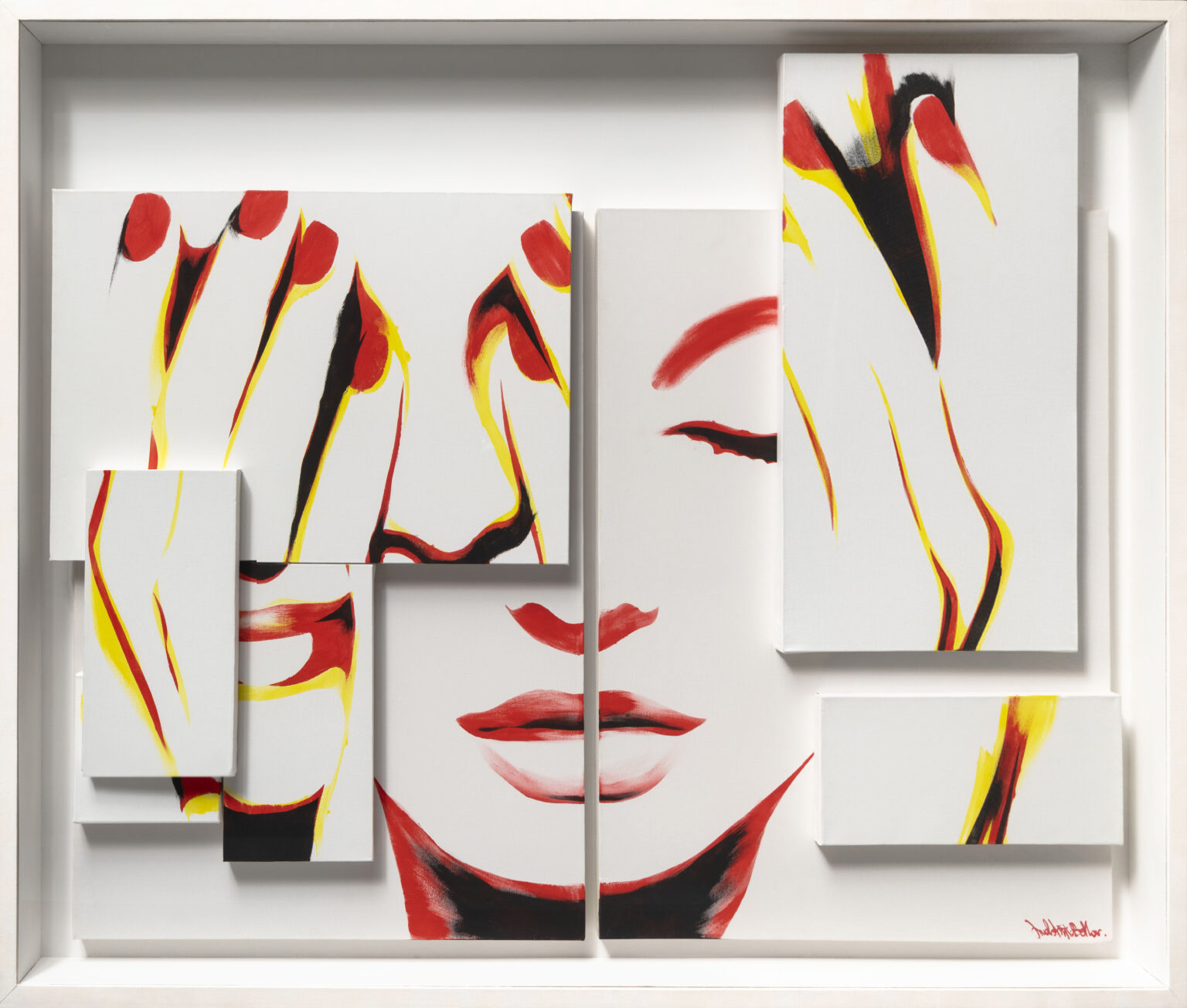 This is how, consequentially, the depth of research develops and the complexity of visual overlap is matched by an intensification of intellectual inquiry. Thus the quotations take shape, the more media-oriented and 'low' ones from movies and celebrities, which are the best-known face of our cultural reality, to the most significant ones from the great literature of the nineteenth – twentieth century.
The canvas lives on narrative planes even when it is not broken down into polyptychs, and semantic copresences are condensed into layers of aesthetic meaning. It fits well with the teaching of Bachtin, who derived precisely from his observation of Dostoevsky's novel the multilingual necessity of man, which seeps out of his characters, never whole and unambiguous who nonetheless invoke an external interpretation in order to be vivid, real, precisely polysemous. Like the protagonists in Dostoevsky's pages, those in Duty Gorn's canvases live on the multifaceted intimacy of the artist-author: "faces that break to reveal their deepest souls." But, at the same time, they also speak from the side of the observer, needing the observer's gaze to be constructed, evaluated, investigated enough to recompose the fractures of the polyptychs.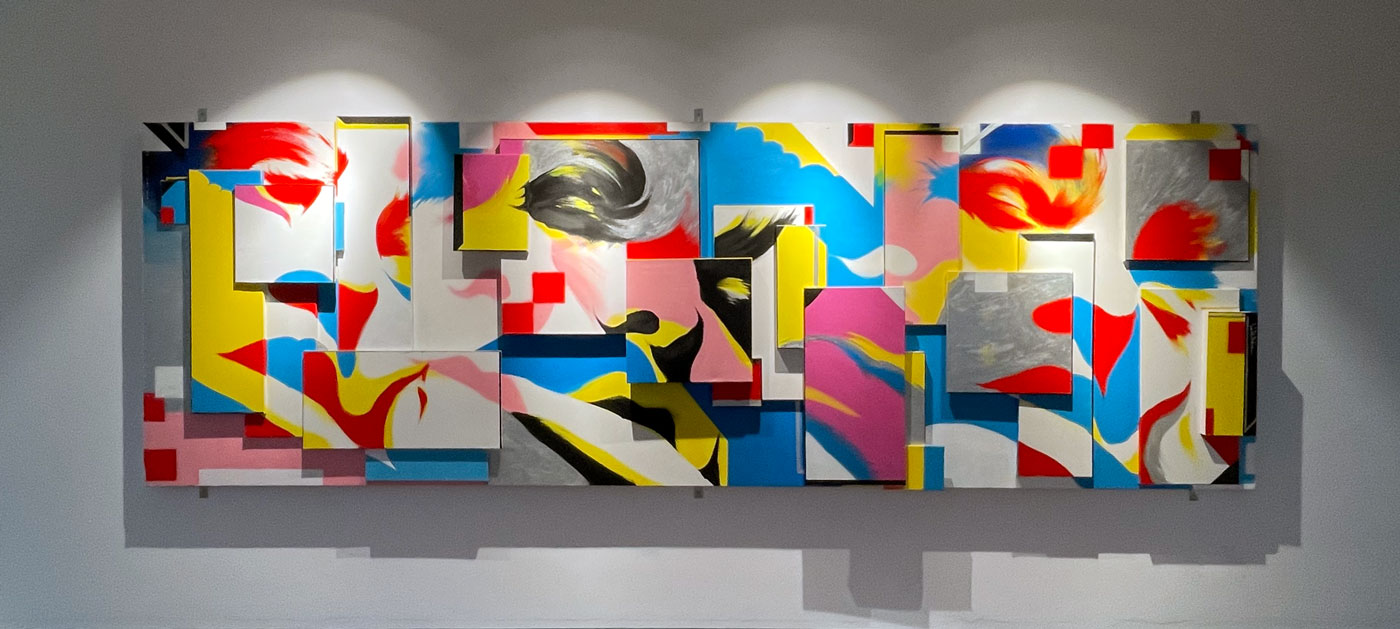 If the style can sometimes incede into the cliché of popular language, almost serigraphic and aseptic, in reality what is being enacted is a potential desublimation-counterfactual to part of that pessimistic thinking that wants to understand these representations as factors of mass culture bearers of social and historical decline-combated to the tune of eccentric, flattering and harmonious gestures. It manifests itself as the polar opposite of other hyper-contemporary art that communicates instead through the desecrating capacity of the ugly and proves to be the bearer of a message of positive reinterpretation, which is finally the contemporary message of 'affirmative culture,' finally aware of its own myths but also of its own illusions.