CHARITY AUCTION BANK SYSTEM ART
In support of the people of Ukraine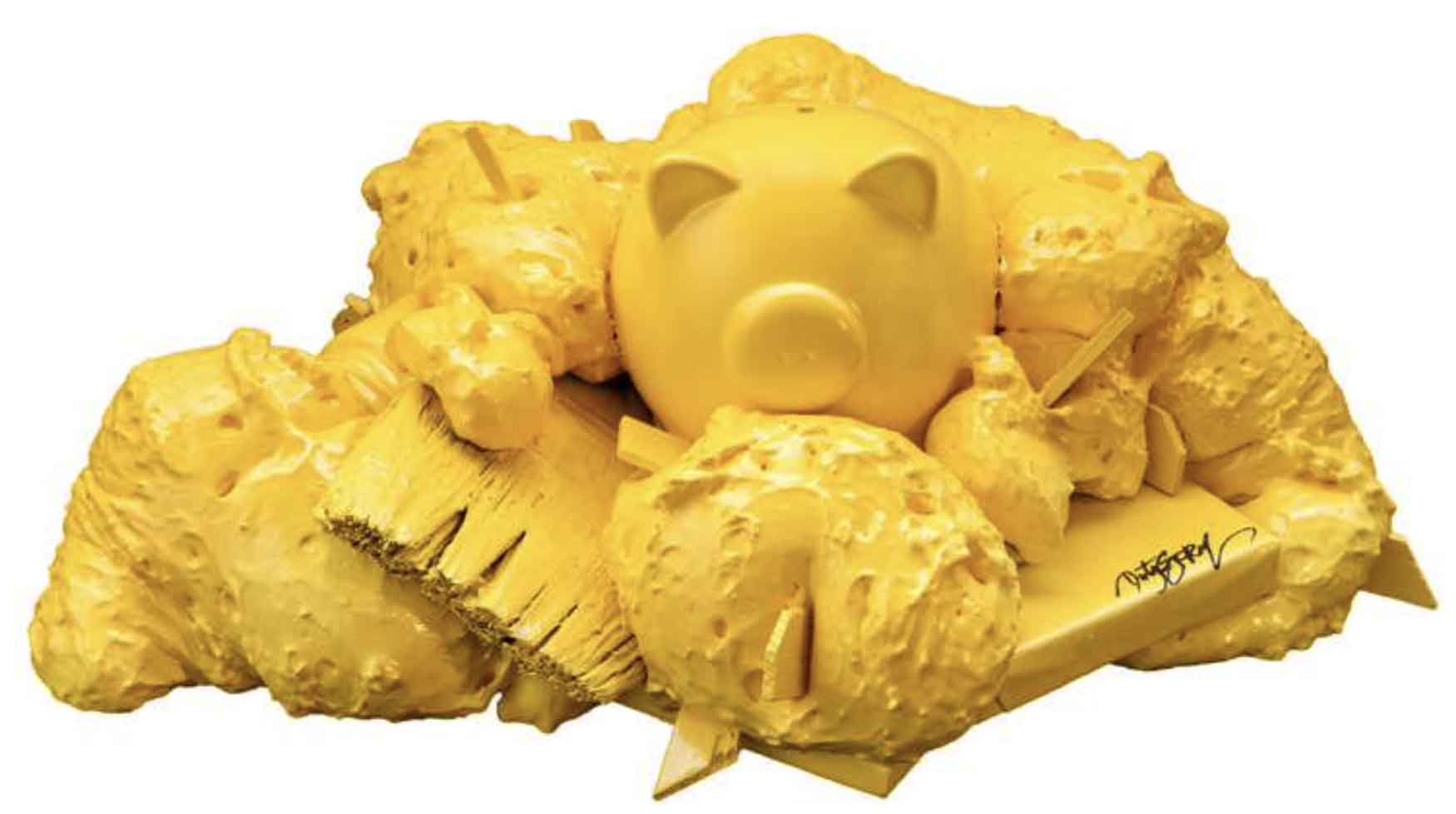 On Monday, Dec. 5, 2022, the nonprofit project Banca SISTEMA ARTE, launched in 2011 with the establishment of Banca Sistema and the desire to promote young Italian art, presents its charity auction in support of the humanitarian emergency of the Ukrainian population.
The initiative, carried out in collaboration with Art-Rite, sees Banca Sistema and a number of artists, who have participated in the Banca SISTEMA ARTE project over the years, co-protagonists in support of those in real need today and through the project for the Ukrainian population of Salesians for the Social*.
Gianluca Garbi, CEO Banca Sistema, had emphasized the value of the project by amplifying it, "today through art we want to loudly support peace, those brave women and innocent children who were victims of atrocious and inhumane acts that we had all hoped never to see happen again." So ten artists, Linda Carrara, Viola Ceribelli, Davide Coluzzi, Alberto Gianfreda, DutyGorn, Dario Maglionico, Luca Moscariello, Carlo Alberto Rastelli, Thomas Scalco, and Lucrezia Zaffarano accepted the invitation to creatively paint and interpret Banca Sistema's symbolic piglet, creating with their signature piglets a union between the art world, the bank, and the sincere desire to become the protagonists of this event that sees donation as an important gesture.
The piggy bank, which has always been a symbol of Banca Sistema, is for the Group a recognizable image, a sign, so much so that over the course of the more than 10 years of the ARTE project each of the exhibiting artists has had the opportunity to personalize the emblematic piggy bank with his or her own art, creating a collection that is now considerable from the most varied interpretations. Linda Carrara interprets ceramics delicately by intervening in pencil with her most typical sign: the reproduction of the veining of Carrara marble. Thus, the piglet takes shape as if directly carved from the noblest marble. A prestigious and elegant value at the same time. Viola Ceribelli reflects on the events of the past summer characterized by a severe drought, in which from riverbeds and the bottoms of dried-up lakes the re-emergence of ruins, objects and war relics bring us back to the thought that unexpected reality can always come back to confront us. The piglet covered with matter is a metaphor for this. Davide Coluzzi colors the background black and punctures the piglet, like gunshots from which gold flows out. Alberto Gianfreda presents a sculpture recognizable by its modus operandi: the destruction of an object, reassembled through a small chain. The piglet perfectly split in two but held together by a series of golden rings is symbolic of apparent division, countered by bonding as a form of help and defense. Duty Gorn, pop in his style, perfects the piglet by acting on material recovered from his works and revived. He allows glimpses of the original form surrounded by elements of excess that carefully painted primary yellow bring us back to his painting, made of a few colors and always the same. Dario Maglionico without any interpretive connotation, simply signs his creation with three painted wasps, elements belonging to his latest research. Luca Moscariello, always deep in research, intervenes with two piglets in the mirror commenting on the principle of duality – of equality and diversity – with a reflection on the ability to observe and ennoble mutual differences/similarities. Carlo Alberto Rastelli meticulously bisects the piglet and paints the parts emphasizing their diversity. He configures the piggy bank as the juxtaposition of two different images, symbolic of the strongly dichotomous character that distinguishes the "spirit of the times" that pervades our time: on the one hand, the image of a starry sky of Kantian memory, indicative of that romantic awe and Enlightenment enthusiasm with which the world greeted the images of the James Webb space telescope; on the other, the frame of an explosion caused by a Russian missile fired on the outskirts of Kiev. Thomas Scalco through a chromatically dark painting – blue, gray and black – elaborates as if he had in his hands a three-dimensional version of "stones" – a research element of recent years – and revisits the form by removing its original reading to make it an evocative and commemorative mass; Lucrezia Zaffarano contrasts two piglets by decorating them in a form identifiable with the gold and blue of her work.
The author piglets are only a part of the pieces destined for SISTEMA ARTE Bank's charity project for the Ukrainian people; in fact, some artists, driven by strong sensitivity, donated sketches/drawings/prototypes to help expand the auction results. Dario Maglionico, Luca Moscariello, Thomas Scalco and, exclusively, Laurina Paperina are the prominent names of the gracious gesture. Dario Maglionico offers a 2017 watercolor on paper titled Study for Reification 24 that depicts the detail of a large painting, a girl sitting on a chair with hair covering her face. A detail that results in its own work. Luca Moscariello, can be recognized by the two Paperpuzzle sketches, two drawings on paper clearly representing the artist's research in recent years. In fact, the works are dated 2022, to be considered the last of a mature and thorough artistic journey. Thomas Scalco, on the other hand, has two works created in acrylic, collage and pencil that in their elegance are typical of the artist's work. Geometric shapes contrasting against a background, almost monochrome almost landscape. Finally, Laurina Paperina, eclectic by reputation, pays homage to two silkscreens entitled Big Mouth, where we observe a fantasy world made up of characters all to be recognized, discovered and/or interpreted. A simple single-color black-on-white print and a very complex and prestigious eight-color print.
There are also seventeen works from the private collection that Banca Sistema decided to donate, including: graphite-worked papers by Elisa Bertaglia, where one can recognize her most distinguishable marks, little girls with costumes, snakes, herons; two paintings on canvas by Mauro de Carli, lively, evocative and impactful; three works by Maddalena Lusso, titled Gaudo, delicate works by a young artist undergoing experimentation demonstrated by the use of mixed media composed of pencil, oil and wax on tracing paper and cardboard; Marta Palma with an abstract painting crossed by a blue line that floats on the surface as if free in the air, all painted in watercolor on paper that defines its lightness; Chantal Passarella simple and illustrative with a large shell; Melissa Provezza's two small drawings, Fiori Recisi and Rimosso, representing a child and a little girl frank in their essentiality; and finally, a photograph by Chiara Tesser depicting a woman in tulle surrounded by white turkeys.
Complementing the peculiar and varied selection of reworkings of the symbolic image of Banca Sistema is a 'corpus' of 14 works – from a private collection in Milan and Pavia – capable of becoming an expression of a multiplicity of languages and research as well as of temporal horizons ranging from a more historicized dimension to the contemporary in the strictest sense.
Galliano Mazzon is present with an artist's book as a valuable synthesis of that propensity for abstractionism and purity of form proposed in a sense of absolute essentiality. Also in terms of abstraction is the lithography of Gianni Dova, whose practice has been confronted over time with a significant multiplicity of languages, moving from Realism, to Geometric Abstraction and then to Spatialism and Nuclear Painting, a movement born in 1951 thanks to Enrico Baj and Sergio Dangelo with the intention of giving birth to a new freedom of expression capable of overcoming any form of academicism, with the definition of imagery inspired by the existence of unknown subatomic and invisible universes influenced by Surrealist and Dadaist echoes. Antonio Calderara's dreamlike, decontextualizing approach contrasts and dialogues instead with Concetti Pozzati's pop echoes and Aldo Galli's abstract, almost architecturally cut approach. In an interesting change of register, Gianrodolfo d'Accardi is present instead with an oil on canvas and an oil on canvas applied on cardboard, fully exemplifying his ability to synthesize figuration and abstraction conveyed through an employment of color and impulsive gestures with which to emphasize the emotional intensity of the scenes.
The realm of the contemporary first finds concretization in Pierre Poggi's color photographic print and its exploration of reality through iconography directly deals with the world of soccer while the traits of procedurality, provocation and embodiment of that sense of constant post-modern questioning are instead embodied in the 'historicity' of Maurizio Cattelan's graphic works. Also in line with a desire to dissect reality and its sociocultural dynamics is then found the quasi-advertising slant of Paola di Bello's c-print. At the opposite end of the spectrum, Magda Thotova idealizes with two silkscreens and artist's books a new, surreal world, but at the same time flawed by that sense of fear and anguish toward all that is yet unknown. A sense of 'alternative' that in some respects can be found in the plastic realism of Gregory Sciltian's lithography.
*Project for the Ukrainian population of Salesians for the Social The Salesians, since the war broke out in Ukraine, in addition to being present in large cities such as Kiev, Lviv, Odessa, Dnipro, Zhytomyr where they are continuing to take care of the reception on site for those seeking shelter, providing medical care and food; in Italy they have started the 'Ukrainian refugee reception' project and are welcoming mothers, minors and entire families at Salesian homes in Rome, Chieri, Bologna, Livorno.
Today, the great challenge of this child and family intervention and integration project is to continue to welcome and ensure that children and young people have a suitable, balanced and continuous school placement while respecting their possibilities and fragilities.